We all know how competitive the gambling industry is, after all this is a multi-billion dollar market which means search rankings is a day-to-day dogfight. Good design, good content, and bonuses are only going to get you so far. Making money long term means you need to compete for search terms that will bring viable players to your website.
If you have been in this industry for any amount of time, then you have seen plenty of junk websites ranging from poorly built to hard core blackhat sites. The same goes for link building strategies, you will find everything from lazy attempts to what I call "waste of money" strategies.
The good news is that building quality backlinks is not as hard as it seems, and if you are willing to get creative then you can get quality backlinks that you can be proud of. When it comes to Link Building you should be focusing on quality over quantity. One or two links from link farms or sites that are obviously selling link space can not only negate all the good links you recieved, but it can also get your site penalized.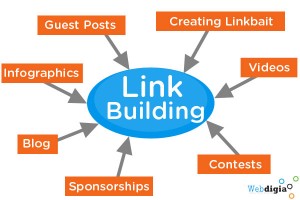 The Do's and Don't of Link Building
As mentioned above, a few bad links can ruin your website and eliminate your affiliate income overnight. To help ensure that never happens to you, I'm listing a few affiliate link building tactics you need to avoid at all costs.
The Don'ts of Link Buying
Don't buy links from sites known for selling links – These are easy to spot if you are looking.
Don't SPAM links to your sites in blog comments or forums – These links are usually no follow anyway, and regardless they are low quality
Don't hire an agency to do your link building for you – I have never heard anyone talk about a positive experience after they hired a company to build links for them. Ever….
Don't bother with website directory link exchanges – Maybe this was effective 10 years ago, but it's not now.
Don't focus too much time of gaining backlinks – Sure links are good, but your time is better spent adding original content and optimizing your calls to actions.
Now that we have spent a few minutes discussing the "Don'ts" of getting backlinks, let's talk about some creative ways to get some quality backlinks.
The Do's of Gaining Backlinks
Notice that I didn't say "Buying backlinks"? That's because some of the best links you can get are ones you don't pay for. Paying for links is one way to get links, and I'm not saying you should never pay for a link. But there are some creative ways you can get good backlinks, and not spend your hard earned money.
Here are some creative ideas for getting backlinks to your affiliates websites:
4 Tips For Getting Backlinks
#1 – Ask A Fellow Affiliate – One of the best links I've ever gotten for my sites was from other affiliates I know. I'm not talking about the 'ole "directory link exchange" type deal, but actual in-content links. To get good links like this, ask someone. It's that simple! Find a fellow affiliate who has a site similair to your, and see if they are willing to exchange links, but make sure it's a good link on a inner content page. These types of links are not spammy looking, they are relevant, and your users will thank you.
#2 – Create An Infographic – Although infographics are not as popular as they were a couple years ago,if you put up some good information, people will read it and people will share it. Best of all it's very easy to make your own infographic using infographic builders. Simply pick a topic, add the information you want to display/share, and add the link that is displayed in the embed option. Simple and effective.
#3. Write A Free Article For A Website or Blog – Everyone loves good/free content, and Everyone loves solid backlinks. Try this, write an article about a topic of your choice, and make a post on the PAL forums and give it away for free (backlink included of course) . As long as the article is good quality, someone will snatch it up in minutes and you have yourself a great in-content backlink.
#4 – Press Releases – There are a small handful of good PR websites, and they are not cheap. The advantage of these are they they do reach a large audience, and because of the higher price, they maintain a high level of respect, weed out the spammy junk, and the Do-Follow links count.
The Foundation
These 4 tips for link building are a good starting point, and I'm sure you have some other tips and tricks to get yourself some quality links. Again keep in mind you do not need to get hundreds of links to be successful in the affiliate gaming industry or any other. Of course they do help, but most important of all you need to have a website with solid content and a good design.
If your foundation isn't strong, then no amount of links can help you.