For a lot of webmasters the word "SEO" brings up thoughts of some mystical guru working in the dark corners of the internet. But in reality Search Engine Optimization (SEO) is based on various common sense guidelines than anyone can follow and learn. There's a common myth that you have to be an "SEO Expert" in order for your website to rank organically in the major search engines., but in reality you just have to pay attention to the fundamentals of a web page.
There is several Advanced SEO strategies that you do learn with experience and trial and error. But the fundamentals stay the same, and if you can master the basics of SEO, then you are a step ahead of your competition.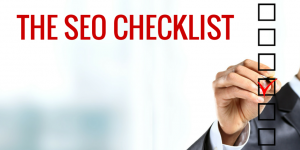 Beginner's SEO Checklist
Below is the beginners SEO Checklist guide, and if you follow the checklist, you can be confident you are on the right track. Consider this article Part 1 of the Fundamentals of SEO.
Title Tags – The #1 Most Common Mistake is not customizing your Title Tags on EVERY PAGE/POST
Description Tags – Not all search engines use these, but snippets do show up in search results.
Keyword Tags (Although google Doesn't check KW's anymore, remember google isn't the only SE).
Content is king – Make sure all of your pages contain solid content. The home page is your most visible page and should also contain you most important key phrases. Don't have a page of just images and tables!
Updating Your HomePage – Changing content on the home page gives the engines more to feed on.
Keep it Fresh! – Be sure and Display a "Date" or "Update On" spot on each page. Trust me
Create internal links – Use strong anchor text in hyperlinks that point to various pages within the site. It's like setting cookie crumbs on every page so the hungry spiders will follow the crumbs.
Images –  Use the alt tag on all pictures to tag photos with key phrases. Name the image file with the key phrases too. Key info can be display even if image loading is off. The alt tag appears in code for search engines to read and to the human eye on photos when you scroll your mouse over an image.
HEADERS <H1> The H1 and H2 heading tags are used back when sites were hand coded -Web designers don't need this anymore but search engines can see the H code phrases in headlines, which boosts visibility.
Content is king but Keep it simple, stupid – The best website copy is easy for a visitor to comprehend and it's easy for engines to detect. Be clear with key phrases in copy whenever you can.
Standardize your url's – You know that http://yoursite.coom and www.yoursite.com are the same but search engines may not know this. If your URL's don't point to one main domain, fix that ASAP.
Site Maps – Create an HTML sitemap with text links with strong key phrases to boost content and links. A Sitemap is basically a table of contents for the engines to crawl. Also create and submit XML site maps with Google Webmaster Tools.
Use Google Analytics – This contains a wealth of information about your website and more importantly, your visitors.
Use Google Webmaster Tools – I'm shocked when a webmaster does not use GWT. This not only contains keyword search information and rankings for your website, it also allows you to submit sitemaps and best of all shows you if there are any coding or malware issues on your website. Just a huge amount of vital information that you need to know!
It's as easy as that! Use the SEO Checklist above and make sure you are doing the easy basics. This is the bare minimum you should be doing with your website. In the next article in this series we will cover some advanced SEO Tactics.